"Everybody is a book of blood. Whenever we are opened, we're red."
-Clive Barker, Books of Blood
The Library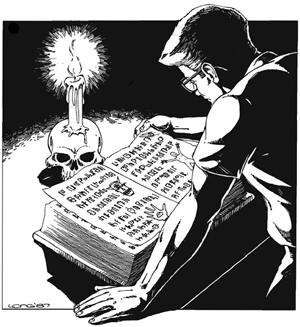 Hello and welcome to the library!

Come on in, grab a Beyond the Supernatural sourcebook, find an empty chair and light yourself a candle!

I've added a library to the House for two reasons:

#1. To introduce the Beyond the Supernatural™ RPG to those who don't know what it is and / or have found this fan site by accident. If this describes you, then hello and welcome to the House!

#2. I keep noticing on the Palladium Books™ forum that people frequently ask for a listing of Beyond the Supernatural related materials and where to find them.

So, to help out any interested parties, I now maintain a list of BtS sourcebooks and materials in the library! This page is kept up to date and should be insightful for you.

The following list includes dedicated Beyond the Supernatural™ books, issues of
The Rifter that includes BtS specific articles (some of which were written by myself coincidentally) or other Palladium Books products containing BtS specific information.
Sourcebooks
Beyond the Supernatural - Second Edition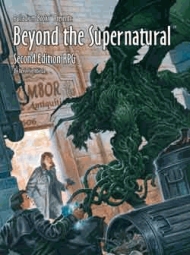 Beyond the Supernatural™ 2nd Edition builds on the bones of the classic BTS game to create a modern world of horror and magic unlike any before it.
The supernatural is real. Psychic abilities and the paranormal are real. Magic is real. Yet science and authority figures dismiss them as hysteria, hoaxes and madness. However, special individuals gifted with special abilities or cursed with firsthand encounters find themselves inexorably linked to the paranormal and forced to deal with the consequences.
Some of our heroes are gung-ho psychics and sorcerers who see themselves as humankind's hidden protectors. Others are drawn into the realm of shadows through quirks of fate, or fueled by feelings of revenge. Still others are reluctant heroes and even victims, but all have been touched, in some way, by forces beyond human comprehension - Beyond the Supernatural.
Purchase this at Palladium Book's website
Also check out the limited numbered hardbound edition
Beyond the Supernatural - First Edition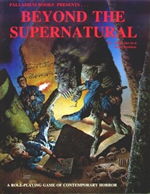 This is the 1st edition of the BTS game, and is very near and dear to my heart. Note: This book uses first edition revised rules. And while the rules may be outdated, there's still a treasure trove of material in this book worth having, and the cover by Richard Corben is worth the cost alone.
"A roleplaying game of modern horror. Contains character creation, skills, careers, character classes, combat rules, mysterious locations, magic and psychic powers, monsters, weapons and equipment, and four adventures."
Highlights Include...
A New Magic System For a Contemporary World.
Ancient Mystic Arts
Places of Power
Psychic Abilities
Supernatural Creatures
Everything You Need to Play.
a Complete Role-Playing Game of Horror.
While no longer in print, it can still be purchased in PDF format at DriveThruRPG.com
Boxed Nightmares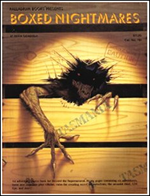 An adventure source book for Beyond the Supernatural. Eighty pages worth of supernatural goodness that contains six adventures, three new monsters (the Tasmanian Devil, the Devouring Horned Lizard-Beast and the Doppelganger Entity), plus new villains, new NPC's, rules for creating secret organizations, the arcanist thief, GM tips, and more!
Also included in this file is the 16 page newspaper that came packaged with the book.
This book is no longer available in print, but can still be purchased in PDF format at DriveThruRPG.com

The Rifter
The Rifter is a quarterly fanzine/sourcebook with material submitted by game master's, game players and fans alike and Beyond the Supernatural material gets published in it regularly. Coincidentally, several of these articles are mine, and I will shamelessly point them out as I go (and offer to sell copies of issues I still have).
Additional BtS Materials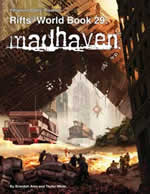 Rifts World Book #29: Madhaven
This book has several new entities presented within it, along with conversion notes for the 2nd edition BTS rules on page 124.
Includes the Gluttonous Ghost, the Beautiful Ghost,
the Harmful Ghost, the Madness Ghost, the Conglomerate Entity,
the Contagion Entity, and the Rotting Entity.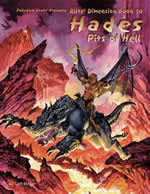 Hades: Rifts Dimension Book 10
This book offers a variety of Demons for use in BTS, including conversion notes like the "S.D.C.", the "A.R." and the "Discorporation" of a demon on BTS Earth (see Death of a Demon on page 19).
Note: The low "P.P.E." levels of BTS Earth incidentally protect it from an outright invasion by Hades forces. However, individual beings and reconnaissance squads can show up through rifts and dimensional anomalies (whether by accident or by intention).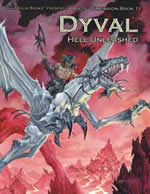 Dyval, Hell Unleashed: Rifts Dimension Book 11
This book offers a variety of Deevils and Dyvalians for use in BTS, including BTS conversion notes like the "S.D.C.", the "A.R." and the "Discorporation" of a Deevil on BTS Earth (see Death of a Deevil on page 16).
Note: The low "P.P.E." levels of BTS Earth incidentally protect it from an outright invasion by Dyval forces. However, individual beings and reconnaissance squads can show up through rifts and dimensional anomalies (whether by accident or intention).
Notice: I've outlined and intend to one day fully flesh out a "Hades/Dyval skirmish on BTS Earth" to submit to the Rifter some day.
Future BtS sourcebooks
There are two more sourcebooks for BTS coming (which are long overdue) in 2014. The first one is titled Beyond Arcanum™ and will be dedicated to describing and fleshing out the unique magic system of BTS. While I'm sworn to secrecy on the details, per phone and personal conversations I've had with Kevin, the magic of BTS will indeed be very different from other palladium worlds.
The second sourcebook is titled Tome Grotesque™, which will be dedicated to depicting lots of things that go bump in the night, cults and cultists, living and surviving in the BTS world, and more details about the Lazlo Society™.
Beyond these books, I myself currently have two sourcebooks that I'm working on, with plans for more to follow. One of them has the working title Beyond the Paranormal™, and will be dedicated to ghosts, spirits, the Astral Plane and ghost hunting in the BtS world. The second one is has the working title of Victims and is an expansion on the ideas and concepts found within the "Victims" and "GM section" details found in the 1st edition BTS book, and some more surprise goodies will get shoe horned in as well.
Once these books are finished, I have plans for other BTS themed sourcebooks, such as The Elemental Kingdoms, which is something I started as an idea for my home game and fell in love with as I fleshed it out. Giving you an idea of the setting, imagine four dimension planes, each one housing a collection of sentient elemental beings. Imagine these dimensional pockets being "shackled" to each other and BtS Earth, and many of their residents have become sickened and disenfranchised over the ages with the human populace of Earth and their seemingly blatant disregard and abuse of the elements.

In a weird twist, the water elementals are at the forefront of this yearning to destroy humankind, while humankind gets an unexpected and ironic ally in fire elementals, who feel that humanity's penchant for destruction rivals their own and sees a kinship in them.
Beyond that, who knows what might come from beyond the supernatural in the future!