"It was an evil house from the beginning - a house that was born bad."
– Dr. John Markway, The Haunting
You have entered the House of BTS...
a house that exists
"Beyond the Supernatural"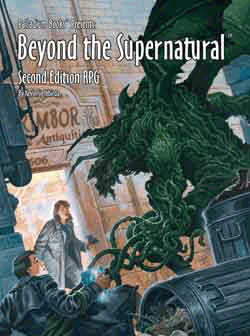 "Welcome to my house, I'm delighted that you could come. I am certain you will find your stay most illuminating. It is regrettable that I cannot be with you, but I had to leave before your arrival. Do not let my physical absence disturb you, however. Think of me as your unseen host and believe that, during your stay here, I shall be with you in spirit. May you find the answer that you seek. It is here, I promise you."
-Emeric Belasco, Hell House
Step into my parlor... welcome to my House, which is dedicated to the Beyond the Supernatural™ (BTS) Role Playing Game from Palladium Books™. All of the content within this house is a collection of thoughts, ideas and suggestions to help you improve your BTS gaming experience. It also serves as practice for my continuing education as a web designer, so stop by regularly for updates to both the site and content.
Beyond the News and Updates
June 2017
May 2017
March 2017
October 2015
Archives
June 7th, 2017:To all my House and Host fans…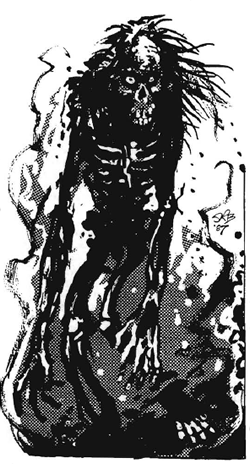 As some of you may know, the House of BTS has been around for a wonderful six years and counting. I built the House as a way to learn and practice for my short-lived plans to become a web designer as well as create the best Beyond the Supernatural fan site around. I built the House from ground up and put a lot of thought, energy, work and effort into making it the site you enjoy now.
The House has also provided me with the unexpected pleasure of getting to know a lot of its visitors. Since opening I have written to, spoken to, worked with and even met lots of gracious and generous volunteers and contributors. Writers, artists, gamemasters and players all alike have become a part of the House.
While real life has kept me from adding to and updating much over the last year, I've got lots of things that I'd like to add to the House, including new monsters, NPC's, Pregen's, articles, resources and the like. Kevin S. of Palladium Books has also been revamping his efforts with BTS, starting with a preview of a Tomes Grotesque monster in the Rifter #78, making this a good time to get back to building onto the House.
However, the House is in danger of closing its doors and disappearing forever!
To avoid this dark fate, I'm asking for help! Click here to read all about it.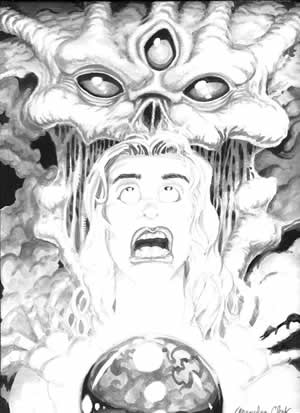 May 22nd, 2017: Some of you may recall that the House has a room dedicated to Non-Player Characters (NPC's) that are either used in my home game or have been submitted by various House Guests.
Well, something I've been wanting to do for awhile now is make "generic NPC's"; NPC's that are not designed for my home game specifically. NPC's that any GM can download and use in their home game as desired. The contacts would be left blank (to fill in as needed) and there's no mention of location specifics. I'd even leave spaces in places like weapons/attacks for the GM to include whatever desired.
To that end I'm happy to release my first generic NPC "Madame Mercy" Baitis! Mercy is a (Cursed) Ordinary Human P.C.C. who works as a Fortune Teller and a "Psychic Consultant" for the police, detective agencies, private individuals and businesses.
Mercy took up Fortune Telling in the trailer park mall she lives in with her mom and younger sister to help supplement their income when her mom became sick. In the last year or so she began having genuine divinations, however the rub is that all of her divinations come in the form of horrific visions and hallucinations.
Her divinations are invaluable to any group of PC's as she warns them of incoming dangers and doom. However, she's also a liability in that her visions are tormenting and hard on her.
On the surface she comes off as greedy, moody and anxious. But as the team gets to know her they'll learn that she's got a big heart and suffers her divinations for the sake of her family. If the group inquires, Mercy's visions are the result of her being cursed by a demon and some clever detective work & paranormal investigating could lead them to it and dealing with it. I leave it to the GM as to what it is, what it wants and if her visions go away after the demon perishes.
Note: Mercy's info is generic as possible with blank spaces, but for a $5 donation I can personalize it for you, or for a $10 donation I'll send you the excel file to update as you see fit.
The illustration by Brandon C. Clark portrays Mercy suffering from a horrific divination while something devious and demonic watches on behind her (the demon who inflict the curse upon her). Mercy's illustration was paid for by a generous donation from Tony of Black Rabbit Games.
Click here to meet Mercy and download her character sheet
---
May 11th, 2017: Spent some time correcting, cleaning up and adding onto some of the pages that hadn't been updated in awhile. Some of the updates in particular include adding some new rules in the House Rules page, cleaning up some of the Meta in the Contact Page to help ensure that you re able to contact me, and most importantly I've added the Court of the Tarot Errata over in The Lab!
This is something that I'd considered doing in the past but I held back as the errata already had a home on the Nexus Nine site. However, the Nexus Nine site is closing soon, so Scott - the author of the wonderful Court of Tarot article from the Rifter #45 - asked if I would add it to the House. Of course I would, and the file can now be found down in The Lab for those interested.
The Court of Tarot Errata includes a new occupation, new rules for funding and bribery, four new classes including a ghost which is available as a player character class (with game master approval of course), six new psi-devices, two new spells, monsters, several non-player characters and more information on the Saint Augustine setting.
I'd also like to mention that the Rifter #78 will include a Tomes Grotesque preview of an "official source material" monster written by Kevin Siembieda. This is big news to me as its the first time in a few years that something official for BTS has been published. I look forward to reading all about it.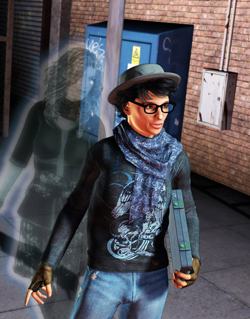 March 2017 - It's been too quiet for far too long in the House of BTS, and Mike "Mad Man" Leonard has just the thing to shake things up a bit and clear out a few cob webs!
As a birthday gift to the the Host of the House of BTS, Mike created a new illustration of "Justin VanBuskirk"
from the Pregenerated Characters page.
As fate would have it, Justin's character sheet was in need of a upgrade as well, so I ended up redesigning almost everything. But its finished, and it can be found by clicking here!
You have my thanks Mike, for both the illustration and for helping to get the House of BTS some paranormal activity again!
Pumpkin Sam has returned!
The premonitions of the psychics were correct...

I've just confirmed that Pumpkin Sam has arrived for his annual day of hunting victims and taking their heads.
Its my understanding that Pumpkin Sam is a long forgotten deity of some kind, armed with a large hatchet, and he's an unstoppable killer! 

Palladium freelance artist Kent Burles was kind enough to provide the House with a sketch of Pumpkin Sam.
If you see this creature on the prowl, run the other way, and hope you can keep running until midnight!

The Pumpkin Sam monster sheet is only here for one day, so get him before he vanishes until Halloween of 2016!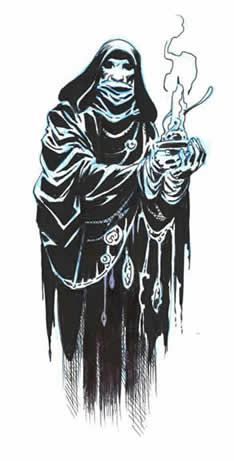 HAPPY HALLOWEEN!
The Host is well aware of his lack of haunting activity in the House as of late, but sometimes other matters in life must be tended to (like hiding all these bodies).
But as all you house guests know, Halloween is one of my favorite holidays and I like to do special things this time of year with the House.
To get things started for the season, I'm proud to announce that the House of BTS Face Book page has reached over 200 house guests! I promised that once we reached this goal I would add something special to the House. And to that end I would like to introduce you all to the the latest collaboration between Palladium Books artist Kent Burles and I... The Candle Specter!
This chilling new supernatural entity can be found floating around the Supernatural page. And while Kent's Serial Killers will be back again this Halloween season, the Candle Specter will be haunting the house permanently!
Stay tuned as more tricks and treats are coming!
Reminder: The Host of the House of BTS is returning as a Special Guest Writer at the Nuke-Con Game Convention in Omaha, Nebraska for its 25th Anniversary!
To help celebrate, I've decided to run one giant Beyond the Supernatural adventure, played out in three chapters over the weekend! All three will be a part of my ongoing
"In the Dark" game series, meaning that the lights will be turned off while the group uses flashlights and other lighting equipment. I also provide sound effects and mood music and other goodies throughout the adventures. I hope to see you there!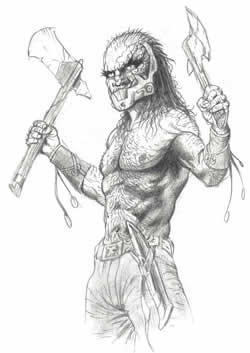 Kent Burles' Psychic Murderers
and Serial Killers are back!
You always knew it would happen...
you always knew they would come back for you...
and now, they're here! RUN!
Kent Burles' Psychic Serial Killers have returned for the Halloween season, and they're itchin' from some killin'!
Both Wacker AND Chopper showed up this past weekend to get this party started.
Come on in and meet them... if you dare!
Stay tuned as other will coming throughout the month... if you can survive that long.
-Man Eater has just shown up at the House and is already handing the prep work for our annual Halloween rave in the ballroom! The staff better be on their A game with helping her out or heads will roll.
The entire pack of Kent's Killers are all here and enjoying the hospitality of the House! I've hired extra staff to keep up with the high demand (the body count of the various staff and house guests this pack rack's up is impressive to say the least), and everyone is running scared this Halloween Season. All is as it should be.
Who's up for a new pregenerated character?
One of my treats to go with all my tricks this year is Nerymar Barerra...
Nerymar is a 22-year-old Psychic Healer and an aspiring Model, Comedian, Actress and a Keyboard Player and Singer in a local band.
Nerymar is in the midst of a late blooming rebellion against following her family's footsteps in medicine. She'll eventually grow out of it however and will return to nursing school as deep down she loves being a healer. In the meantime she enjoys the attention, keeping busy, and being involved in Paranormal Investigations.
Nerymar was created in response to players who wanted a female Psychic Healer, but didn't want to play a nun. I found my unexpected inspiration and muse for Nerymar in a Shopko advertisement when I saw the model's image above. I ran with it from there.
You can find her on the Pregenerated Character page in the Psychic Healers area.
Archives
Past news and information concerning the house that's more than six months old, but is still worth knowing can be found below: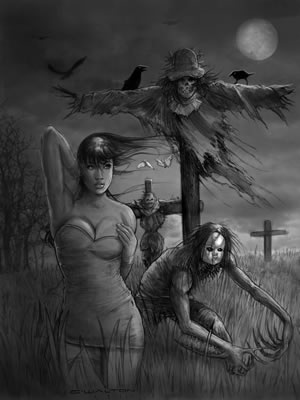 10/1/14 - Well... October, the fall season and Halloween are all upon us again, and I for one am going simply raving mad about it! The paranormal activity within the house is increasing as well as the number of house guests (and the supernatural creatures & monsters that stalk them). Kent Burles' Psychic Serial Killers and Murderers are returning as honored guests for the season (and will be arriving soon), and several tricks AND treats will be passed out throughout the month.
In fact, I'll pass out my first treat now!
When I attend game conventions and run a Beyond the Supernatural game, I bring along copies of what I call the Character Sheet Reference and Tracker page. Its a two sided document designed to make it easy for first time players to find details in the book concerning the information on their BTS pregenerated character sheet.
Well, for the first time ever I'm making this page available for all of my house guests! Click here to get it!
While its not the most useful for long time players, the tracker on the back side can still be of use to you. If nothing else, when you run your own BTS con-games, you're welcome print up copies to pass out to your players.
Keep your eyes on the House of BTS as more goodies will show up throughout the month! You can watch the Palladium Forum page as well as the Facebook page for news and information as well.
6/1/14 - In general I don't like to brag or pat myself on the back, but sometimes it's nice to get a compliment, if only to be reminded that I'm doing it right.
I've gotten plenty of compliments on the House (which is fantastic as I'm pretty proud of it), but there are a few compliments both directly & indirectly that I wanted to share.

-From a review by the Semi-Retired Gamer who had this to say about the house:

"Even thought I do not own or play BTS yet, I found the fan site to be extremely well done and should be of use to others. This site is basically what every gaming fan site should strive to be".

-I spotted these in a BtS related post on the Palladium Forums:

ffranceschi wrote:"BTS has MrLoucifer and the best Palladium related website ever"...
Hendrik replied with: "House of BtS is awesome beyond the pale and getting better. Steven is an excellent writer chock full of excellent ideas and loves BtS."

-And while not House related per se, Stephanie, one of my players, had this to say about my home BtS game/materials:

"Another great GM is Steven Dawes... He's honestly the best GM I've ever played with. His Beyond the Supernatural games are brilliant."

I'm flattered to death by words like these; they help keep me and the House going.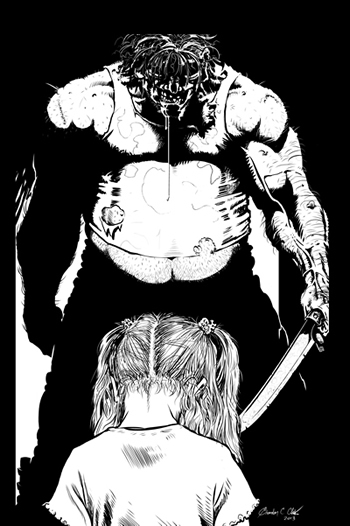 3/16/14 - May I have everyone's attention please?
Brandon C. Clark is the interior decorator of the House of BtS, and in many ways I consider him my right hand concerning matters in the House.
Well, Brandon has run into a stitch that you can help unravel. In short, he needs character commissions, and the speedier your commission come the better.
I can tell you from personal experience, Brandon understands and knows the BTS vibe (or other RPG settings if desired), his character commissions are always top shelf quality, and he's expedient. I have a photo album dedicated to his work on The Facebook page (as well as spattered around the walls of the House) if you want examples of his fine work.
His standard rate is $25 for a character portrait (unless you want something intricate). Honestly, for the quality of his work, that's an outright steal!
Brandon has a Facebook page where you can befriend and reach him at, or you can contact him via his e-mail address at goldbrandonium@gmail.com (which coincidentally is the Pay Pal address you can send him funds through).
1/26/14 - The "Semi-Retired Gamer" is a blog featuring the game related ramblings and ideas of a role-player of over 30 years. And I'm proud to say that he reviewed the House of BTS on his blog! And what did he have to say? Heres a few excerpts:

"Even thought I do not own or play BTS yet, I found the fan site to be extremely well done and should be of use to others."

"This site is basically what every gaming fan site should strive to be."

So click here to read his full review; tell him the Host sent you while your there.
This has been a long time coming, but the House is now officially hosted with pride by Host Omaha! From here on out, you'll find the house by visiting "houseofbts.net".
This means that the house that Beyond the Supernatural built is here to stay!

It will continue to serve as a BTS fan resource like it always has, but it will now be used as a sampler page in my hopes to build a niche as a fan site designer. You can also continue to follow the paranormal activities that go on inside the house through the Facebook page.

I also hope to spring board the site to new heights as I've lot lots of ideas and plans to build onto current (and possibly new) sections of the house. New monsters, new NPC, new gear, and more is coming! Stay tuned!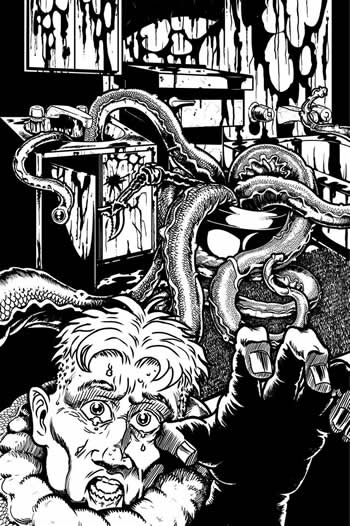 6/19/13 - I've just received word from my newest guest and BTS artist Brandon C. Clark that there's a problem with one of the guest bathrooms in my house. "Something's gumming up the plumbing" or something like that he said...

But not to worry, I've sent someone in to feed the take care of the problem, and it should be resolved soon.

In the meantime, I've set up Brandon with another guest room, for there's always plenty of space for guests in the House of BTS, its how I feed the house staff keep the house staff occupied.






(Seriously, I love Brandon's newest illustration, which he drew especially for the House, promising that more exclusive pieces will grace the galleries, the many rooms, and the hallways of the house.)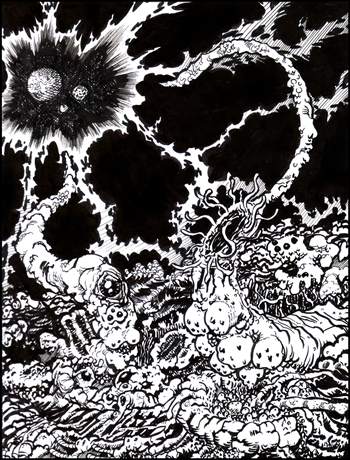 6/10/13 - Palladium Artist Brandon C. Clark was kind enough to point an unused illustrated he created of an Alien Intelligence for Beyond the Supernatural out to me. While its unused at this time, I'd like to think it will show up in the Tome Grotesque sourcebook.

Brandon's illustration is grotesque, its horrible, its twisted, its sickening, and it makes my blood curdle... therefore it's perfect for displaying on the walls of the House of BTS! Nice work Brandon!

P.S. Brandon's also got a few more BTS illustrations that I plan to round up and display through the house in time. Keep a look out for more of his festering, hideously awesome work! Oh, and feel free to look at more of his fine works on his deviantart page.

(12/3/12) - If you haven't seen it yet, The House of BTS now has a page on Face book. Please like it to be kept up on the news and happening that go on within the house.
(11/26/12) - I'm happy to announce that I've gotten permission from "Midnight Syndicate" to play their hauntingly atmospheric music within the varied rooms and hallways of the house! I'm a big fan of their work (have been for years), I proudly own all their music CD's, and I've used many of their tracks in my BTS games.
I will be posting their music across several pages of the House in the coming weeks, but as you can hear, I've already updated the home page with a BTS worthy selection to help set the mood.
3/31/12- I forgot to mention that Palladium Books has released bookmark set #2, which includes the Beyond the Supernatural book cover as one of the available book markers. Check them out here.
The House of BTS is a fan site and all of it's content is free. However please consider a small donation
as it will help maintain the site and help provide new information, artwork and materials.
As the Host of the House, I thank you for your generosity!