"It was an evil house from the beginning - a house that was born bad."
– Dr. John Markway, The Haunting
You have entered the House of BTS...
a house that exists
"Beyond the Supernatural"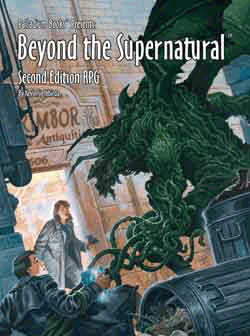 "Welcome to my house, I'm delighted that you could come. I am certain you will find your stay most illuminating. It is regrettable that I cannot be with you, but I had to leave before your arrival. Do not let my physical absence disturb you, however. Think of me as your unseen host and believe that, during your stay here, I shall be with you in spirit. May you find the answer that you seek. It is here, I promise you."
-Emeric Belasco, Hell House
Step into my parlor... welcome to my House, which is dedicated to the Beyond the Supernatural™ (BTS) Role Playing Game from Palladium Books™. All of the content within this house is a collection of thoughts, ideas and suggestions to help you improve your BTS gaming experience. It also serves as practice for my continuing education as a web designer, so stop by regularly for updates to both the site and content.
Beyond the News and Updates
February 2018
November 2017
October 2017
June 2017
May 2017
March 2017
Archives
The House of BTS is a fan site and all of it's content is free. However please consider a small donation
as it will help maintain the site and help provide new information, artwork and materials.
As the Host of the House, I thank you for your generosity!